One of the industry experts I learn from every time we speak is Ginny Kenyon, principal at Kenyon Home Care Consulting. Ginny helps open home care agencies and has given Ankota great inputs on our software. We at Ankota strongly believe that keeping elderly people healthy and comfortable in their homes (and out of the hospital) is an important step in the evolution of healthcare. Ginny is one of the pioneers driving moves in home health delivery. Enjoy her post (below).
Starting a new business is no easy venture, especially if you're breaking into an industry with which you're unfamiliar. Fortunately, launching a homecare agency capable of surviving year one of operation doesn't have to painful! Let's look at four ways to ensure a smooth startup process.
Be Prepared for Your Homecare Agency Startup
Before you ever open your doors, you need to consider the things that can be done to help you prepare for success. Preparing well and early ensures not only a smooth transition, but also long-term stability.How do you set yourself up for an attainable startup accomplishment? There are several ways, but be sure to consider these two immediately:
Come up with an effective, detailed business plan.

Save enough funds to sustain the agency while you're waiting for licensing or certification completion, normally six to 12 months. This is a good policy for any kind of business, even if licensing isn't an issue, as funds are usually pretty tight your first year.
Get Your Homecare Agency Resources in a Row
The next step to take is to create and/or organize all necessary paperwork, tools and resources required to operate an agency. Don't wait to long to get started on this as most must be complete before licensure/certification is granted. Having a clear understanding of your business plan, completed in the step above, should give you an idea of what you need to include in each of your documents.Consider incorporating these required homecare startup necessities:
Policy and procedure manual

Employee handbook

Tools to measure staff competency including an aide competency testing kit

Resources needed to meet state and federal regulations
Based on what type of homecare organization you're starting, these resources vary in content and purpose. Within the industry, there are numerous variations of policy and procedure manuals. For example, a skilled Medicare home health or hospice agency requires different specifications than a non-skilled or private duty homecare organization, according to the legalities surrounding each.
Spread the Word About Your Homecare Agency
Now that you have a clear-cut plan for your organization, the necessary paperwork, tools and resources obtained and the money retained to cover a year of expenses, it's time to get the word out.Next step is to search for, find and hire the ideal job candidates. Retaining a startup consultant before launching into this step may be prudent as the hiring process can be a long and requires experience. Before writing and placing ads and holding interviews, create job descriptions for all positions. In addition, having the knowledge of what's required to create an elite aide staff will set your start-up apart from the competition.Begin laying the groundwork to build your network and client base. Here are four ideas to get you started:
Ask for Help With Your Homecare Agency Start-Up
The best way to ensure the success of your start-up is to seek help from experts in your field. These experts steer you in the right direction concerning employee relations, (human resources to leadership skills), legal requirements and regulations, and how to retain the necessary software, tools and resources.
When it comes to giving your organization the best chance possible for success and long term stability, don't be afraid to ask for help!
At Kenyon HomeCare Consulting, we offer everything you need to get your agency off the ground and running smoothly. From providing temporary management during times of growth, to helping you educate your employees, we give your organization the startup boost to succeed.
HOW TO SURVICE YEAR ONE WHEN STARTING A HOMECARE AGENCY first appeared in Kenyon HomeCare Consulting blog.
Ginny Kenyon is the founder and CEO of Kenyon HomeCare Consulting, a home health consulting firm that gives agencies a market advantage, promotes creative product development, and offers viable ways to achieve and sustain organizational and fiscal success.
------
One of Ankota's recent care transitions whitepapers, entitled "Selling Care Transition Services to Hospitals" is available for download and we think you'll find it useful. Please click the link or the picture below to download. If you're interested in scheduling an online demo of our home care or care transitions software solutions, just click this button: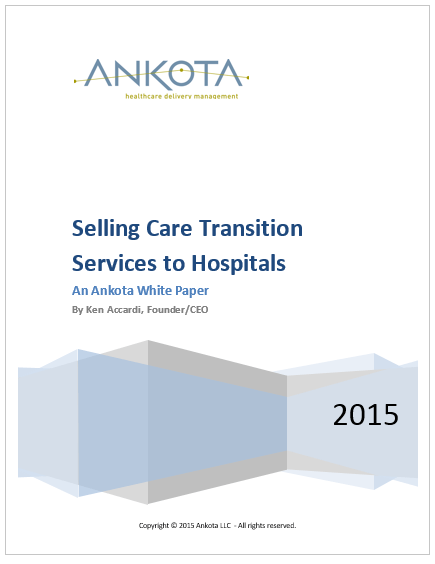 Ankota provides software to improve the delivery of care outside the hospital, focusing on efficiency and care coordination. Ankota's primary focus is on Care Transitions for Readmission avoidance and on management of Private Duty non-medical home care. To learn more, please visit www.ankota.com or contact us.