Today's guest post comes from Dixie Somers, a freelance writer from Arizona. Her post highlights several ways that technology is impacting the role and practice of nursing. I've had the privilege of meeting many home care nurses and have experienced a mixed set of reviews when it comes to technology. Most nurses pride themselves on their strong combination of medical knowledge and skill in care delivery and don't want technology to get in the way. This conversation has mostly come up when discussing point-of-care documentation where there is a strong preference for most nurses to focus on the patient and their health at the point of care and not to encumber that care or make it impersonal with a laptop. I do believe however that technology that improves care will be embraced by nurses. Please enjoy Dixie's article.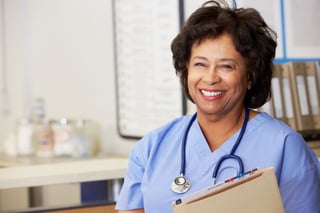 Technological advancements are tantamount to the growth of any industry, especially the healthcare industry. These advancements in technology are especially prevalent in the nursing field. Technology has visibly changed the way registered nurses (RNs) administer patient care, made their jobs less physically demanding and safer, and limited human error while improving workflow.
However, with all that current technology has done to improve the field, more technologies are being adopted to improve it even more. This technology includes, Electronic Healthcare Records (EHR), Tech-driven Drug Delivery, Real Time Locating Systems, Advanced Diagnostic Tools, and Advanced Communication Systems.
Electronic Healthcare Records (EHR)
Filling out patient charts and having to obtain patient medical records from doctors is time-consuming, and can take a nurse away from more important duties. However, EHR technology is changing this. EHR gives nurses instant access to patient information through the use of a computer or tablet. Extensive patient history is stored in one file, which can help reduce human error. The technology is useful in keeping track of diagnostic test results and alerting the nursing staff to possible drug interactions.
Tech-Driven Drug Delivery
The implementation of drug delivery systems in the form of implantable devices is growing in popularity amongst hospitals. These devices release medication into patients in certain intervals. Nurses can use the devices to schedule complex dosing, which ensures medications are administered at the right time and in the right amounts. This is paramount to reducing human error, as well as allowing nurses to give more time to other aspects of patient care.
Real Time Locating Systems
Real time locating systems (RTLS) are a lot like GPS except that they're designed for medical equipment. This technology is designed to create a system of tagging and tracking medical equipment for hospitals and other facilities. The goal is to increase efficiency in medical facilities. Ultrasound and/or infrared, and radiofrequency identification tags are used to help nurses find the equipment they need by locating machines that are closest to them. Being able to centrally monitor equipment will improve patient care routines and bed management, which is a great responsibility for nurses.
Advanced Diagnostic Tools
Diagnostic exams can be invasive, but advanced tools can change this while making these procedures more comfortable for nurses and patients. Advanced tools have given nurses even more options for performing minimally invasive treatments and tests. This will make exams and treatments more cost-effective and will reduce a patient's risk of future infections. Some examples of these tools or the nanotechnology of an ultrasound to place a peripheral IV (PIV) and handheld biosensors to detect diseases from small body specimens.
Advanced Communication Systems
Advanced communication systems are being adopted by some hospitals to help nurses communicate with other staff members. This advancement will allow nurses to speak, text, and receive patient alarms through a smartphone outfitted with specialized apps. Smartphone devices will effectively replace outdated paging systems. They are also a more effective way for entire nursing units to communicate, stay in touch, and allocate and supervise duties efficiently.
Although these technological advancements in the nursing field have great potential for improving the healthcare industry, they merely scratch the surface. Other technologies, such as smart alarms and improvements in patient lifting technology are also improving the industry. Thanks to these improvements, the jobs of those in the healthcare industry are becoming more efficient with more opportunities for career advancements. You might consider earning a master's of science in nursing if you'd like to make a career of utilizing technologies like these for the benefit of others.
------
One of Ankota's recent whitepapers, entitled "Selling Care Transition Services to Hospitals" is available for download and we think you'll find it useful. Please click the link or the picture below to download. If you're interested in scheduling an online demo of our home care or care transitions software solutions, just click this button: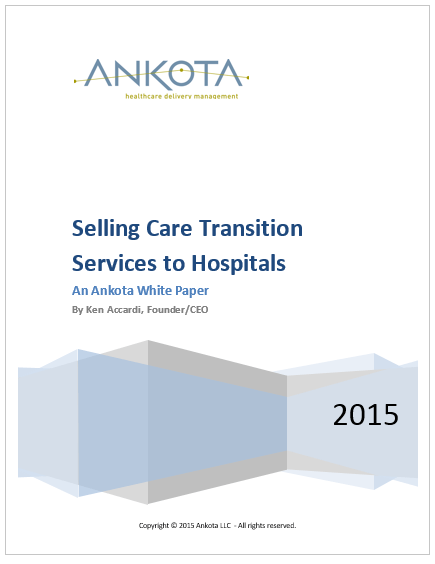 Ankota provides software to improve the delivery of care outside the hospital, focusing on efficiency and care coordination. Ankota's primary focus is on Care Transitions for Readmission avoidance and on management of Private Duty non-medical home care. To learn more, please visit www.ankota.com or contact us.