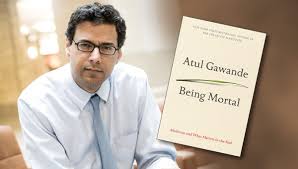 If this is the first article that you've come across in Ankota's series on Atul Gawande's book Being Mortal, you might want to

start from the beginning. Here's a link to

Chapter

1.
Chapter
5 of
Being Mortal
was a high point. The
chapter
focused on how an independent thinking physician turned a nursing home upside down being bringing in pets, live plants and even children, and then found a way to bring these "Green Homes" out to other geographies. Unfortunately,
Chapter
6
reminds us again quickly that this is a book about end-of-life.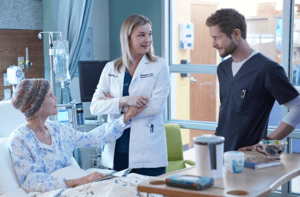 The primary story in the
chapter
is about a young woman (34) named Sara Monopoli who died of breast cancer but the main point of the story was that her family never embraced the reality of her coming death and she ended up dying in intensive care without being able to say goodbye. Through advancements in medical treatment, we're able to perpetuate life more than ever, but it leaves you with the question of whether it's better to keep a person alive a bit longer or focus on their quality of life (and the life of their family members and loved ones). It also looks at the associated cost of living out your last days in intensive care.
Why Do People put Themselves Through a Medically Perpetuated End-of-Life?
There are several reasons why people's deaths are medically extended beyond what makes sense. One answer comes from a hospice nurse (also coincidentally named Sarah) who explains that 99% of her patients understand that they're dying but most of them hope that they're not.
My wife's mom, Connie, died of a glioblastoma (brain tumor). She was initially diagnosed and a surgery was performed to remove much of the tumor. My wife flew out to see her and participated in a doctor's appointment with roughly a dozen family members in attendance. The question was raised about how long she had and the doctor said that it could be months but that he had one patient for 20 years. Everyone other than my wife heard the 20 years. The reality was less than 1.
By contrast, my dad, Tony, died of pancreatic cancer. He spent his career with Met Life in the actuarial department and was a "math guy." He called me and in a non-emotional voice told me of his diagnosis and that he expected to die pretty quickly. I didn't want to accept it and in hindsight wish that I wasn't in denial and took him on a vacation. I'm not sure which was better between Connie and Tony.
Moving for a moment away from the realities of the book and my own life, I've been watching a TV show called "
The
Resident
" and on a recent episode there was an entertaining story of a woman reaching end-of-life who had been a hospice worker for 25 years so she was very upbeat about her death.
The
humorous part was that she told
the
nurse (one of
the
main players in
the
show) that she was really looking forward to 1) going to hospice and 2) meeting an old boyfriend to whom she was going to profess her love. Of course
the
woman had orders to not do surgery and not to resuscitate her but on
the
night before her two items were going to happen she had an episode and
the
nurse fought (successfully in
the
end) for her to get some surgery to make it through.
The
"punch line" was that when
the
boyfriend showed up, she told him how pissed she was that he'd blown her off for
the
last 30 years and told him to go to hell (then broke into laughs). You can watch the episode (Season 2 Episode 19 - Snowed In)
here
.
My Thoughts:
The point of writing an article like this one is to get you to think, but at the moment I'm hung up with my own thoughts, which are as follows:
I want to get started on my bucket list now instead of waiting until it's too late.
If and when I get the news that my time is coming short, I'd like to see if there's a high probability cure, but if not I want to spend the time I have in as fun a way as possible. I want to lay out a plan to do as many fun things as I can. Also (with a nod back to

chapter

4) I'd rather take the risk of dying earlier doing fun things.
If given the choice of hospitalization vs. hospice and palliative care, I'd rather go for hospice and palliative care.
More About Hospice and Palliative Care
Ankota focuses mostly on non-medical home care and not so much on hospice, but every hospice person I've met has been upbeat and wonderful. There are a few hospice examples in the
chapter
and it's important to note that hospice is geared towards the priorities of the individual in their last days. One example profiles a guy named Dave who is dying of pancreatic cancer and the hospice nurse puts together a "comfort pack" of meds for him.
On another related personal story, my father-in-law Jon recently visited and we asked him what he liked for breakfast. His answer was that he likes rice crispy treats and cheesy crackers. It's important to not that he has diabetes My wife (his daughter) wasn't happy with his choices, but I was able to convince her that he's 86 years old and that we should let him eat whatever the heck he wants. When I gave him his rice crispy treat the next morning he promptly told me that the Costco rice crispy treats were a lot bigger.
Pro tip: I found that I was able to easily fuse two grocery store rice crispy treats together to make it more like the Costco version.
This is the Most Important Part
If you're not already convinced that hospice and palliative care is better, the
chapter
ends by citing a study of 150 patients with stage IV lung cancer that was performed at Mass General Hospital. Half of the group had regular oncology care whereas the second group also had meetings with a palliative care specialist. The second group unsurprisingly stopped chemotherapy earlier and opted for hospice care earlier, but the remarkable thing is that they also lived 25% longer.
Please feel free to post your comments below, or better yet, on our online book club page on Goodreads.com.If you haven't already, please join the conversation by clicking the button below or sharing your thoughts in the comments below!
Ankota provides software to improve the delivery of care outside the hospital, focusing on efficiency and care coordination. Ankota's primary focus is on Care Transitions for Readmission avoidance and on management of Private Duty non-medical home care. To learn more, please visit www.ankota.com or contact us.