For the most part, Home Care Aides have not received significant formal health care training, but they are often the best care providers on the planet. They're able to learn the skills needed to provide care and to deliver the care with expertise and compassion. A recent study in western Pennsylvania has proven that aides, with a small amount of training, can play a key role in reducing hospital admissions.
As shown in the graphic below, readmissions were reduced 60% and ER visits were reduced 43%.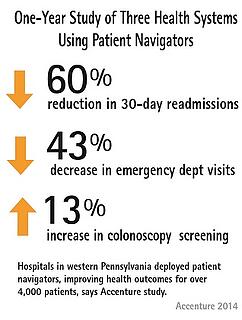 Here are some of the key facts about the program as described in this article on the Accenture newsroom website:
"In initiating the pilot program, we recognized the opportunity to improve and assure timely access to quality healthcare for the communities we serve, while creating sustainable employment opportunities," said Yvonne Cook, president of the Highmark Foundation. "We look forward to replicating the successes achieved in that study in other communities in the future."
The non-medical navigators were able to take on approximately 25% of the work that would have otherwise been assigned to a clinician
Navigator tasks included post-discharge follow-ups and scheduling primary care visits
Accenture estimates that the demand for patient navigators will nearly double in the next three years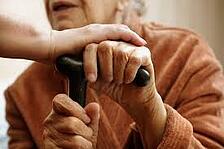 We're really excited to see these results because it proves that the model works. We believe that non-medical home care agencies are ideally suited to fill this market need and are driving a major transformation in health care.
For more information on this topic, please feel free to download our white paper, Why Care Transitions Is The Next Big Thing for the Home Care Industry. Just click the link to download the paper.
If you're interested in learning more about our home care management software solutions, or about our Care Transitions component as a way to increase revenue, just click the button below: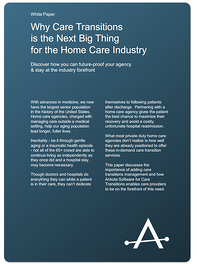 Ankota provides software to improve the delivery of care outside the hospital, focusing on efficiency and care coordination. Ankota's primary focus is on Care Transitions for Readmission avoidance and on management of Private Duty non-medical home care. To learn more, please visit www.ankota.com or contact Ankota.