Home care attorney Elizabeth Hogue has helped our industry navigate through all types of tough challenges and shares her sage guidance willingly through her frequent emails. I need to confess that some of Elizabeth's emails are a bit like cough medicine, meaning that it might not taste so great but you'll be better off for it. Her message that we're sharing today show's the lighter side of Elizabeth where she takes a step back to remind herself and all of us how great and special our industry is. Enjoy...
Home Care: The Main Thing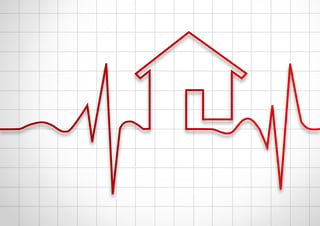 I have a collection of buttons gathered over the years at various state and national meetings of home care associations at which I was a presenter. Three of them say:
"There's no place like home."

"Home care is where the heart is."

"Home care professionals keep families together."
All of the above was true when the buttons were received and remains true today!
IN ADDITION, THESE BUTTONS SAY THE MAIN THING ABOUT HOME CARE!
Home care providers of all types, including home health agencies, hospices, private duty agencies and home medical equipment (HME) companies must keep their eyes on the ball, and "the ball" is these three things!
YES! Home care providers must provide excellent care to patients!
YES! Home care providers must provide cost-effective care!
YES! Home care providers must keep patients out of emergency rooms!
YES! Home care providers must keep patients out of hospitals!
But the main thing is HOME!
Home care providers are bombarded these days with regulatory changes; audits; denials; appeals; reimbursement and payment changes; surveys; requirements for complete, accurate documentation; non-compliant/adherent patients; families who are difficult to work with; patients with high acuities; unreliable primary caregivers; and difficult requests from referral sources.

And let's not forget animals! Attack geese! A home care field staff member who came face to face with a pet alligator in a mobile home in Louisiana named Bubba! A different kind of face-to-face encounter, for sure!
And on and on the list goes.
It seems that there are many who do not understand the home care industry and may even think that it's easy to provide home care. Even a cursory look makes it clear that this is emphatically not the case. It is tough and it's easy to lose sight of the Main Thing.
Regardless of where patients call home, including continuing care retirement communities (CRCs) and assisted living facilities (ALFs), that's where patients want to be. The MAIN THING for home care providers is to help patients stay home. In the midst of competing demands, let's not lose sight of the MAIN THING!
©2017 Elizabeth E. Hogue, Esq.
All rights reserved.
No portion of this material may be reproduced in any form without the advance written permission of the author.
----
One of Ankota's recent whitepapers, entitled, "Selling Care Transition Services to Hospitals" is available for download and we think you'll find it useful. Please click the link or the picture below to download. If you're interested in scheduling an online demo of our home care or care transitions software solutions, just click this button: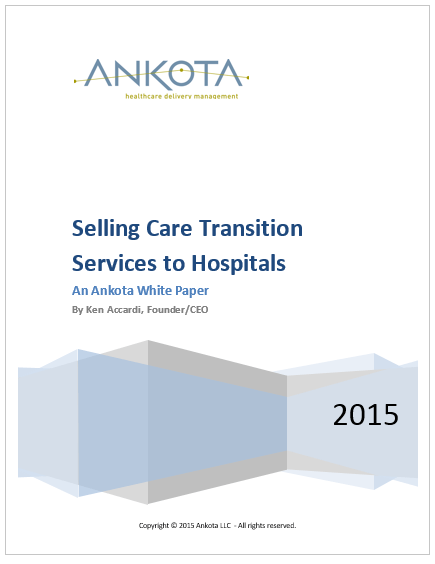 Ankota provides software to improve the delivery of care outside the hospital, focusing on efficiency and care coordination. Ankota's primary focus is on Care Transitions for Readmission avoidance and on management of Private Duty non-medical home care. To learn more, please visit www.ankota.com or contact us.