One of the industry experts I learn from every time we speak is Ginny Kenyon, principal at Kenyon Home Care Consulting. Ginny helps open home care agencies and has given Ankota great inputs on our software. We at Ankota strongly believe that keeping elderly people healthy and comfortable in their homes (and out of the hospital) is an important step in the evolution of healthcare. Ginny is one of the pioneers driving moves in home health delivery. Enjoy her post (below).
If you're thinking of diving into a homecare startup, there are many areas to consider before taking the plunge. As with starting other organizations, launching a profitable homecare agency is an intricate, involved process that requires your dedication and perseverance.Fortunately, at your disposal are a few secrets to success in the home health industry. To learn how to achieve your goals with homecare startups, consider the success stories from the popular TV show, Shark Tank.
What Makes Entrepreneurs Successful on Shark Tank
In case you're unfamiliar with the show, Shark Tank provides an avenue for budding entrepreneurs to pitch their products to potential investors (also know as "sharks"). From crazy to practical, we've seen everything imaginable brought before the sharks. But what does it take for these entrepreneurs to secure an investment deal on the show?Here are three things all successful Shark Tank ventures have in common.
Clever, unique ideas that set them apart from the competition. Consider Aaron Krause and his Scrub Daddy product. According to Business Insider, Scrub Daddy is the most successful of all Shark Tank stories. Why? Because the product is unlike other sponges on the market with its unique ability to contour to the shape of utensils, and with its one-of-a-kind Flextexture technology.

Products or services that fill a need or desire. Take Mark and Hanna Lim's Lollacup, for example. When the couple couldn't find a decent straw cup for their infant daughter, they designed one of their own. The Lollacup is valve-free and comes with a special straw created specifically for helping little mouths get every last drop of liquid.

A willingness to accept help from the right partners. In the case of Shark Tank, these partners are investors. Smart entrepreneurs realize they can only get so far on their own. To really see their businesses soar, they must enlist the help of people with resources they don't have.
What Homecare Startups Can Learn From Shark Tank Success Stories Using the three factors that create successful businesses on Shark Tank, here's how you can apply the same principles to your homecare startup.
Partner with experienced experts outside your organization to help you make the best decisions for success. Homecare consultants, lawyers, and accountants are imperative to the profitable? process needed for homecare startups.

Set yourself apart from the competition with advanced chronic disease education for aides. This training allows you to create an elite group of caregivers providing a superior level of specialty care .

Engage an experienced interim manager to lead the startup transition allowing you to focus on your core business.
WHAT SHARK TANK CAN TEACH YOU ABOUT HOMECARE STARTUPS first appeared in Kenyon HomeCare Consulting blog.
Ginny Kenyon is the founder and CEO of Kenyon HomeCare Consulting, a home health consulting firm that gives agencies a market advantage, promotes creative product development, and offers viable ways to achieve and sustain organizational and fiscal success.
------
One of Ankota's recent care transitions whitepapers, entitled "Selling Care Transition Services to Hospitals" is available for download and we think you'll find it useful. Please click the link or the picture below for tips on how to construct optimal care transitions offerings and sell them to hospital partners in your geographies. If you're interested in scheduling an online demo of our home care or care transitions software solutions, just click this button: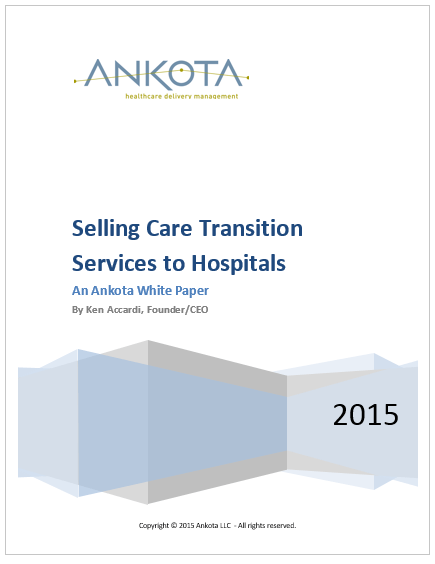 Ankota provides software to improve the delivery of care outside the hospital, focusing on efficiency and care coordination. Ankota's primary focus is on Care Transitions for Readmission avoidance and on management of Private Duty non-medical home care. To learn more, please visit www.ankota.com or contact us.