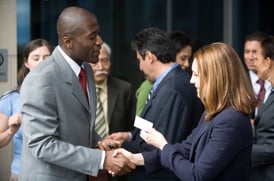 The biggest thing that sets successful home care agencies apart is that they build a network of partners who can send them referrals, and continue to nurture those relationships. Here's an earlier story on the power of networking in home care.
Once you get on board with the power of networking, the next hurdle is to be good at it. Some people are great at networking events. They are the life of the party and networking skills come naturally to them. For the rest of us, here are some tips to make you a better networker:
Put your name tag on the right side of your chest: The reason for this is that as you shake hands with people, it will be easy for them to see (and hopefully learn and remember) your name.

Put your business cards in your left pocket, and other people's business cards in your right pocket: This little tip keeps you from fumbling when sharing cards. If your left pocket only has your cards, you can confidently reach in and grab a card without even looking. If someone doesn't have a card and I want to remember them, I sometimes pull out one of my cards and jot down their information and then stick it in my right pocket.

Think of a way to remember each person you meet: I'm personally bad with names so the trick I try to use is to think of someone else I know with the same name as the person I meet. If that doesn't work, try to pick up something from your conversation such as a place you can associate with the person. The typical conversation starts with an introduction, then "what do you do?" conversation, and then "where are you from?" If you've visited the place they're from, perhaps you can remember them that way.

Network with everyone: You may be thinking that you want to meet the director of the ALF you're visiting, but you're better off to meet everyone. As an example, the front desk receptionist is generally more accessible than a director, plus they often know who is in the building and who is available to talk. This can potentially be your most valuable relationship at the facility.

Follow-Up with the people you meet: When you get home, reach into your right pocket, pull out those cards, and follow up. You can send an email with a title like "Great to meet you!" and then write a short personal note. My advice here is to remind them (and yourself) of a way to remember the conversation, like "it was great to meet someone else whose been to Butler PA." I recommend NOT trying to sell them in this note. Building the relationship is more important. If the person doesn't seem to use email a lot, perhaps you can leave a nice voice mail on their work phone.
Good luck with your networking and relationship building! For more home care best practices, please download our free guide, the Seven Habits of Highly Effective Home Care Agencies. Just click the link or the picture below to download.
If you're interested in scheduling an online demo of our home care or care transitions software solutions, just click this button: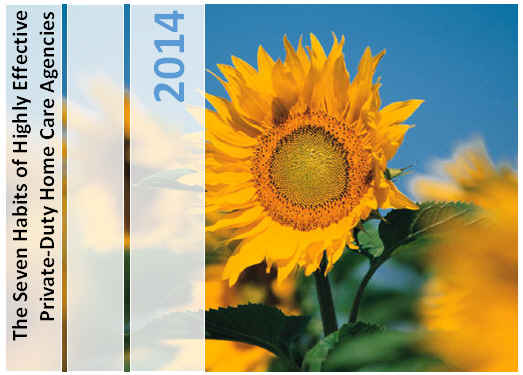 Ankota provides software to improve the delivery of care outside the hospital, focusing on efficiency and care coordination. Ankota's primary focus is on Care Transitions for Readmission avoidance and on management of Private Duty non-medical home care. To learn more, please visit www.ankota.com or contact us.