At the start of a decade and in the midst of a down economy most noted by job loss, there is lots of speculation about where the new jobs will be, and home care is at the top of the list.
I've reviewed several stories on this topic, including two in particular from NPR and from the Huffington post. The Huffington post story predicts the creation of 441,000 home care services jobs in the decade, raising the total jobs to approximately 1.4 million. The images below will link you to those stories.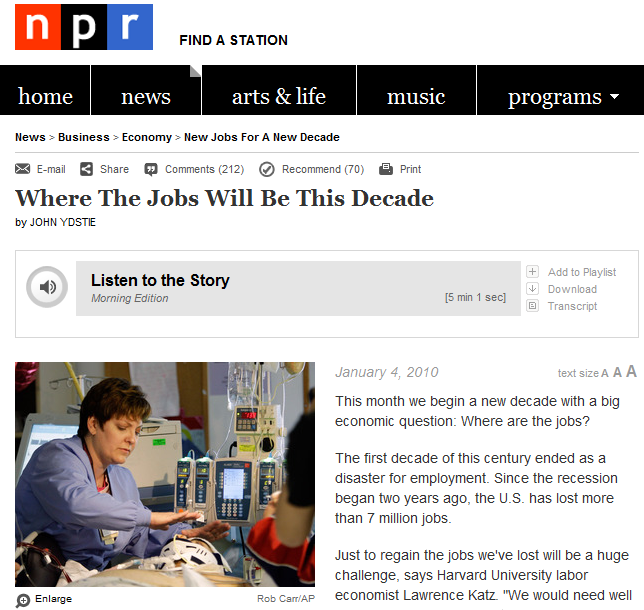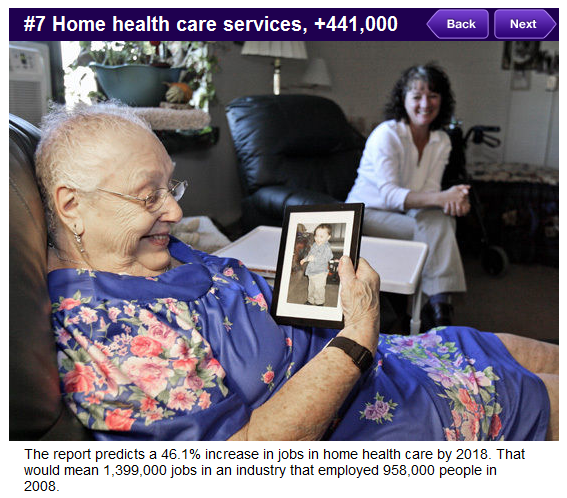 One of the big questions raised in the NPR offering is whether these will just be jobs or whether they have a chance to grow into careers? The possibility definitely exists... Here's a potential recipe for success:
Jobs are created (this is inevitable because of the demographics)
Home Health Aides in quality agencies learn to take on more advanced skills under the instuction and supervision of nurses. Things such as changing wound dressings and tracking patients taking meds as built into a calendar by the nurse
These and other skills are institutionalized into a higher level of aide with more training and a higher level of certification that results in better pay and higher demand.
Work that today requires a trip to a doctor's office or hospital is continuously evaluated to see what can be done in the home
Overall a more structured deliniation evels of aide skills and nursing skills is created, resulting in a solid career path
We're excited to be part of a growing industry and also dedicated to helping facilitate change and improvement in the services offered and the careers that result. For more information about home care software and private duty care software from Ankota, please contact us.