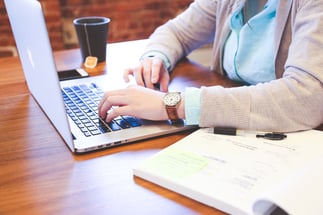 For Ankota's customers and other users of other home care software working remotely due to the effects of COVID-19, here are a few tips, suggestions, and Best Practices to help make the transition from office to remote working as smooth as possible.
Here are a few notes on how to work efficiently and to stay motivated through this challenging time:
Smaller screen: Most home care software office users (like schedulers and billers) have a big monitor in the office but run on a laptop at home. Most home care software (including Ankota) runs on the web today. In the case of Ankota, the screens that are most frequently used for onboarding new clients and scheduling are designed to adjust to the screen sizes of smaller devices, even phones. But even if you're on a laptop you should be able to run in full-screen mode.

One trick if you want a bit more screen space is that if you look to the right of the menu you'll see three vertical lines (web designers call it "the hamburger"). Clicking the hamburger will make the menu smaller.






Internet Access: Most home internet services now have "high-speed Internet access" and you should be able to run Ankota well on your home Internet service. A few pointers are that if your home internet has choices of "5.0" or "2.4" choose the 5.0. My home Internet connections are shown below.


Mobile Hotspot: If you don't have high speed Internet at home and you're on an "unlimited data plan" on your phone, you may be able to set your Smartphone up as a "mobile hotspot" which means that your phone can give you high speed Internet. On an iPhone, go to Settings > Personal Hotspot. On Android, go to Settings > Connections > Mobile Hotspot and Tethering.
Slack: If you're used to sitting next to your coworkers and chatting with them during the day, but now you're apart, consider trying a tool called Slack. Slack is a chat tool that lets you chat electronically with coworkers (by typing). Slack has a free plan that will be sufficient for home care provider office-mates to collaborate.




Keep Moving and Stay Hydrated: If you're working at home, you might not be moving as much as you normally do during your commute and other office activities. Drink plenty of water and set a timer for your self once an hour and move around when it goes off. A good time is often at the "55 minute mark" like 8:55, 9:55, 10:55 and so on. Based on your fitness level, the movement can be as easy as getting up to walk around and fill your water bottle or more vigorous like jumping jacks or a walk around the house or neighborhood.


Find creative ways to stay social: Even if you're not next to your coworkers or avoiding going out with friends, don't become lonely. Pick up the phone and call them (perhaps while you're taking your walk).
We're all in this together, and we'll get through it as a community. If you have additional suggestions, let us know and we'll share them in an upcoming note.
If you haven't read our eBook on managing a Home Care business, please click the button below to get your copy today!
Ankota provides software to improve the delivery of care outside the hospital, focusing on efficiency and care coordination. Ankota's primary focus is on Care Transitions for Readmission avoidance and on management of Private Duty non-medical home care. To learn more, please visit www.ankota.com or contact us.