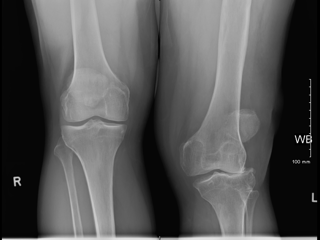 As I hinted in a recent blog post about bundled payments, I needed surgery and home care this month. On Monday August 3rd, I had a total knee arthroplasty (TKA - but more commonly known as a knee replacement). My situation was different than a lot of TKA and home health recipients. I'm a lot younger and healthier. I live with a family (wife, son and daughter) who can all drive and help me. I live in Boston and had my procedure done at New England Baptist Hospital, which has been rated as the best orthopedic center in the country, and I'm highly motivated to recover quickly. But I did learn some things that will help me to be a better home care professional.
The Hospital Part
As noted above, I was in a great hospital with great care. Here were some observations:
There Was Nothing Left To Chance: Before my surgery, I came to the hospital for X-Rays, Labs, a full review of my meds with a pharmacist, a very comprehensive medical exam with a nurse practitioner, and a planning session with physical therapy. I went home knowing exactly what I needed to do to prep. Also, my doctor called me the night before surgery to make sure that I was all set.

Checklists Are Critical to Hospital Quality: Although I had different nurses and CNAs on every shift, they all were well trained on protocol. I was always asked my name and date of birth before anything was administered. Care providers always washed hands and used gloves. Meds were always delivered on time and not a minute before. Vitals were checked and monitored constantly.

Recovery is hHumbling: After surgery, my biggest issues were unrelated to my knee. I couldn't void regularly for days, and part of that process required my CNAs to help me wash, change my bedding and give me every opportunity to relieve myself with dignity. Aides are compassionate and great.

Nurses and CNAs Provided My Care: I met my physician for two minutes before surgery and for another 2 minutes at 5:30 AM the next morning. Of course he did the surgery and did a fantastic job and I have no qualms with the lack of additional time we spent together. My point is that nurses and aides, practicing at the top of their license, provided 90% of my care and they were really excellent. As avid readers of this blog know, my passion is about shifting the focus of health care towards chronic care and avoiding preventable hospitalizations, Having first hand experience with nurses and CNAs convinced me that my vision can be fulfilled

Short Hospitalizations are Better: The role of the hospital has shifted focus to treatment and not recovery. I was really happy to be able to go home less than 48 hours after my surgery.
The Home Health Part
I'm not sure why, but I didn't need a blood thinner (other than Aspirin) after I discharged, so I really didn't need home health nursing. Most of my experience was with PT. Here are the chronicles of my Home Health experience.
I was asked at my pre-admission visit whether I had a preferred home health provider. I didn't.

The discharge planner connected me with Care Group Home Health.

I had planned an Ankota demo with a prospect the day after I was discharged and informed the agency that I had conflicts on my first day at home.

Both the nurse and therapist called me and texted me to find times that were mutually agreeable

My nurse visit was short because my meds were organized and there was no blood thinner. But I'd imagine that she had a bunch of work to do to fill out the OASIS for my episode.

The therapist who first visited me was pretty amazing. She knew my physician and how he works. She was able to explain to me how my incision was glued and then taped and how the lack of feeling on the left side of my knee would decline. Up until this point, my quad wouldn't do anything. She was able to start activating it for my first movement.

The PT assigned for my home health therapy was very good as well. She had a good way of adding function and complexity with each session.

No paperwork was done in my presence (just signature capture)
As I write this, I've been discharged from home health and I start outpatient PT tomorrow. I've been trying to walk over a mile on average each day. I'm also to the point where I hardly use crutches at home. I still need to strengthen my quad and increase my range of motion.
All in all, I'm thankful for the great care I received by so many folks throughout the process and I'm energized in a lot of ways by it to continue to play my part in helping improve healthcare.
Also, Ankota's 3rd care transitions whitepaper, entitled "Selling Care Transition Services to Hospitals" is now available. Please download click the link or the picture blow for tips on how to construct optimal care transitions offerings and sell them to hospital partners in your geographies. If you're interested in scheduling an online demo of our home care or care transitions software solutions, just click this button: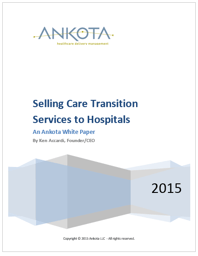 Ankota provides software to improve the delivery of care outside the hospital, focusing on efficiency and care coordination. Ankota's primary focus is on Care Transitions for Readmission avoidance and on management of Private Duty non-medical home care. To learn more, please visit www.ankota.com or contact us.