Does this picture of a caregiver remind you of yourself or someone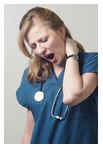 on your staff? Home healthcare nurses, private duty caregivers, and other home care providers often work long shifts and deal with adversity throughout their days. As such, we've added a "Healthy Caregivers" focus to our blog with articles such as Monday's piece on nutrition which you can read here, and today's write-up about reducing stress for care workers. Today's content comes from the article "Seven Strategies to Reduce Nurse Burnout" that was published on the Media Health Leaders website. We encourage you to read the full article by clicking here or on the banner below.

The article offers seven tips for reducing care giver stress (note that the full article elaborates on each point, so check it out here if you're interested in learning more):
1. Stress reduction classes
2. Create a space for relaxation
3. Mentor and buddy programs
4. Recognition and reward
5. Manager involvement
6. Training and education
7. Counseling
To add a small personal editorial, I continue to be overwhelmed by the kindness, generosity and cool, calm and collected demeanor of the caregivers that I meet. Although I do bet that many of you are able to be this way on the outside while you internalize the stress that you encounter. So try one of the above tips to get some relief!
Ankota provides software to improve the delivery of care outside the hospital. Today Ankota services home health, private duty care, DME Delivery, RT, Physical Therapy and Home Infusion organizations, and is interested in helping to efficiently manage other forms of care. To learn more, please visit www.ankota.com or contact Ankota.