The following article is part of our online book club series that kicked off with this article here, entitled, "Announcing Ankota's Online Home Care Book Club." Click the link to start from the beginning.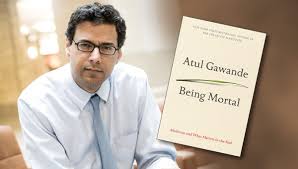 Chapter 5 of Being Mortal is an absolute delight to read. The first 4 chapters were very informative, but a lot of the information was painting the picture of how bad things were.
Chapter 4 introduces Keren Wilson who pioneered Assisted-Living, but it ended in disappointment as she exited her own business and found that many of the facilities that claimed to be assisted living facilities had fallen short, especially on the key goal of providing autonomy to the residents.
If you want to start this series from the beginning, click here.
In chapter 5, things start to turn around and even get fun. The main story is about Bill Thomas, a guy who turned traditional nursing homes upside down. By means of background, Bill was a genius but also a horrible student due to boredom as a child. Somehow, however, he turned things around and got into Harvard Medical School and but then returned to his upstate New York home town to become a family doctor, then an emergency room physician, and he was ultimately put in charge of a nursing home. He checked out the place and hated it.
He described the "3 plagues" of nursing homes as follows:
Boredom,

Loneliness, and

Helplessness
His first instinct was to treat each patient as a medical doctor because he presumed that they were on the wrong meds, etc., but this didn't help. Then he got a crazy idea and it worked… Bill applied for a grant and a set of permits to make the following radical changes in the nursing home:
He put live plants in each room

He replaced grass outdoors with vegetable gardens

He added an after-school program and day care so that kids would be around

But the biggest, and craziest thing he did was to bring in pets: 2 dogs, 4 cats and 100 birds
At first everyone that that the guy was crazy, and they were right. There were also protests from the nurses about unwillingness to provide pet care. But ultimately the experiment worked…
Residents adopted the pets and plants and cared for them. It gave them purpose in life, and the clinical results were astounding as well including reduced deaths, reduced medications, and more.
The chapter went on to talk about other pioneers who had built amazing nursing homes with an emphasis on "home" and these facilities have residents leading fulfilling lives. The chapter ends on a happy note where Lou, a protagonist from chapter 4 , finds a great nursing facility where he feels at home. As it turns out, the home he ended up loving was modeled after a blue print created by Bill Thomas.
What Should We Conclude and Discuss Regarding Chapter 5 in the Context of Home Care?
At the conclusion of chapter 4, we asked what our caregivers could do to provide more autonomy to their clients. Let's raise the bar in chapter 5:
How can our caregivers provide a sense of purpose to the people they care for? Would caring for plants or a pet change their lives?

What separates your happiest clients from your saddest ones? Is there anything that can be learned from that and shared here or used to inspire changes for your other clients?
Read on to Chapter 6: Letting Go
Ankota provides software to improve the delivery of care outside the hospital, focusing on efficiency and care coordination. Ankota's primary focus is on Care Transitions for Readmission avoidance and on management of Private Duty non-medical home care. To learn more, please visit www.ankota.com or contact us.