In non-medical home care, whether it be private duty or programs like Medicaid, we don't get too involved directly in health care matters and instead focus on activities of daily living (ADLs). In some agencies, this is changing and people are realizing that paraprofessional care providers can play a key role in helping the people they care for to avoid preventable hospitalizations.
Forward-Thinking Home Care Agencies are Learning More About Healthcare
This is why Ankota has published our white paper Why Care Transitions is the Next Big Thing for Home Care, and also why our friend Ginny Kenyon from Kenyon HomeCare Consulting has created her Aide Academy.
As forward-thinking agency leaders, we need to start brushing up on our healthcare skills. One key topic that would be much too complicated to tackle in a blog article would be an understanding of prescription medications, but the infographic below from the University of Florida's school of Pharmacology gets us started by providing an overview of the 10 most prescribed medications in the US. The original infographic is available here.

How Aides Can Help with Chronic Disease Management
A good way to learn about medications is one disease at a time. Some of the most common chronic illnesses faced by home care clients are Arthritis, CHF (congestive health failure), COPD (chronic obstrictive pulmonary disease), Dementia, Depression, and Diabetes. By learning, for example, about CHF you are also likely to learn about several medications like Lisinopril, Hydrochlorothiazide (more commonly called HCTZ) and Lasix. As the country moves more towards bundled payments, health systems and health plans will be looking for home care partners to help manage care. Will your agency be ready?
You can learn more about the role of home care in managing care transitions in Ankota's free white paper "Selling Care Transition Services to Hospitals" Please download by clicking the link or the picture below for tips on how to construct optimal care transitions offerings and sell them to hospital partners in your geographies. If you're interested in scheduling an online demo of our home care or care transitions software solutions, just click this button: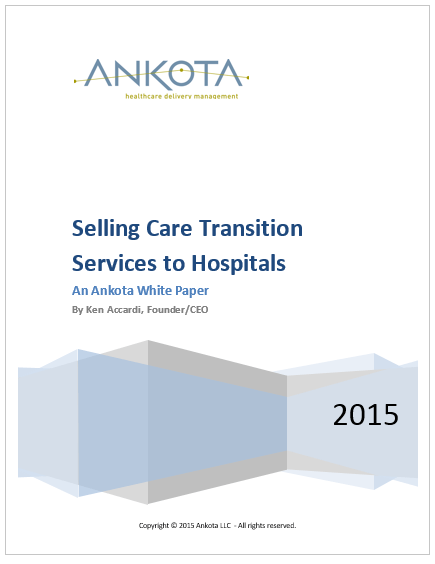 Ankota provides software to improve the delivery of care outside the hospital, focusing on efficiency and care coordination. Ankota's primary focus is on Care Transitions for Readmission avoidance and on management of Private Duty non-medical home care. To learn more, please visit www.ankota.com or contact us.